Two-wire Car voltmeter + 5.0V USB Charging combo
High-performance, multi-purpose, intelligent, user-friendly design
Module performance and highlights:
Table 1. Wide voltage range: DC4.5 ~ 40V
Output current capacity of 2.5V / 2A (input voltage of 5.0V to stabilize the output voltage at 6.5 ~ 40V time)
3. A key ( "Output Enable" button) switch USB output, a key ( "Low Power" button) to enter the ultra-low power
4. Car voltmeter can be self-calibration, will never exist without accurate voltmeter problem! !
5. with reverse polarity protection, reverse polarity does not burn
6. With over-current, over-temperature protection
7. USB with power indicator
8. The band terminals, easy access lines
9. High efficiency, low ripple
10. The module dimensions: length 58mm width 21mm height 10mm
11. Weight: 13g
Module Description:
After the power module provides real-time detection of voltage when you need to give your phone, Ipad, MP3 and other digital products charging, touch the "Output Enable" button can, at this USB power indicator lights, USB 5.0V output voltage; when you need to close the digital control, touch "low power" button, and the module into the ultra-low-power standby mode, USB output accordingly off.
Module uses:
Wide input voltage, for car / battery car / motorcycle used to monitor battery voltage, grasp the battery status, voltage measurements can be used for various purposes.
5.0V, output current capability of 2A, enough to meet a variety of USB devices, voltage is very stable.
NOTE: This module default D + D- are shorted, compatible with the vast majority of cell phone charger, and set aside a variety of mobile phones identification resistor installation location if you need to include the identification resistor, please connect D + D- wire cutting, self-join can.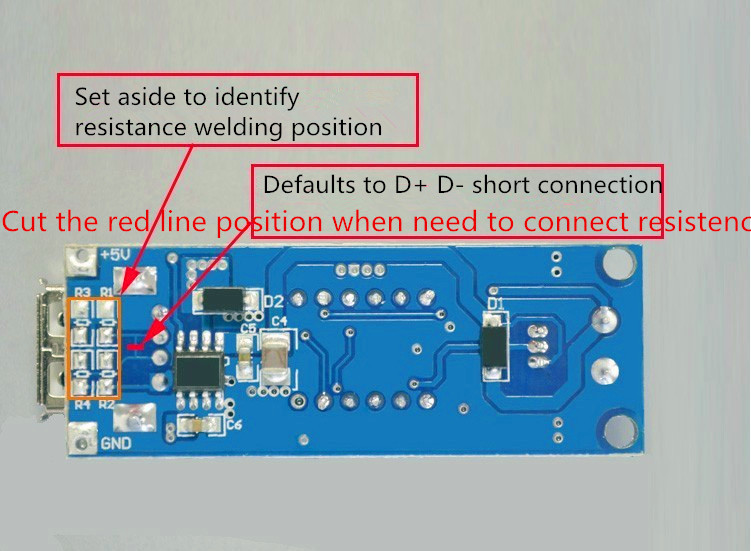 Now the major manufacturers of USB power charging Recognition Definition summarized as follows:
Samsung: more complex, not some special universal design, some shorted D + D-.
Nokia: D + D- shorting
HTC: D + D- shorting
Microsoft Zune: D + D- shorting
BlackBerry, MOTO, Sony, Meizu: Part D + D- short, no part of the identification circuit common
Apple: the identification resistor, backward compatible with short
Innovation: identifying resistance, are not compatible short
LG: Universal Design
ZTE: Universal Design
kindle: Suspected D + D- shorting
Other vendors did not mention generally universal design. Of course, we do not rule out there are special circumstances.
Plus apple identification circuit, the circuit is compatible with Apple's D +, D- shorted.
USB identification resistor circuit is as follows:
Resistance: 0805 1% accuracy
49.9K * 2 Logo 4992
75K * 1 identifies 7502
43K * 1 identifies 4302
Note: Iphone D + road access 75K D- channel connection 43K (pictured), is compatible with shorting D + D-
IPAD D + road access 43K D- channel connection 75K (D + D- swap)
Two-wire car voltmeter self-calibration method:
1. When vehicle voltmeter normal operation, press "Output Enable" button for two seconds after the release, voltmeter blinking, into the voltage regulation mode;
2. Touch "Output Enable" button, the voltage increases one unit, touch the "low power" button, a voltage reduction unit; since the voltage value of a unit is less than 0.1V, so you need to continuously press 1-5 times to see changes in the voltage meter 0.1V, specifically continuous button several times depending on the voltage value currently displayed, the current display higher the voltage, the fewer the number of press;
3. When the voltage is adjusted, press "Output Enable" button for two seconds after the release, this time to exit voltage calibration mode, all parameters set to automatically power-down save.
NOTE: You only need to adjust the way this one can obtain accurate calibration voltage value across the entire voltage range, this function is more accurate to meet your requirements and design, ease of use.